Sanal disk oluşturma ve yönetme programı denilince akla gelen ilk isimlerden olan DAEMON Tools'un gelişmiş özellikler içeren sürümü DAEMON Tools Pro, Windows tabanlı bilgisayarınızda kullanabileceğiniz en etkili sanal disk yönetim programı.
Standart ISO dosyalarının yanında NERO imajları (NRG), DiscJuggler imajları (CUE, MDS ve CDI), CloneCD imajları (CCD), PDI, ISZ, BIN, B5T ve B6T gibi oldukça fazla sayıda formatı desteklediğinden imaj dosyalarını açmakta hiç zorluk yaşamayacağınız DAEMON Tool Pro, imaj dosyaları için üç farklı seçenek sunuyor. İmaj dosyasını uygulama, Windows Explorer ve DAEMON Tools gadget aracılığıyla açabiliyorsunuz.
16 adet sanal sürücü oluşturmanıza ve aynı zamanda 32 sanal sürücü ile çalışmanıza imkan tanıyan DAEMON Tools Pro ile sanal sürücü oluşturmanın, imaj dosyalarını açmanın yanında bilgisayarınızdaki mevcut dosyaları imaj haline dönüştürebiliyorsunuz. (Örneğin; diskinizi imaj dosyası olarak yedeklemeniz mümkün.) VHD (Sanal Sabit Sürücü) ve TrueCrypt yani parola korumalı olmak üzere iki farklı imaj oluşturmanıza izin veriliyor. Aynı zamanda DVD ve Blu-Ray Diskinizdeki verileri bir çok formatta imaj dosyası olarak bilgisayarınıza kaydedebiliyorsunuz ki disklerine çizilmesin diye gözü gibi bakanlar için harika bir seçenek bu.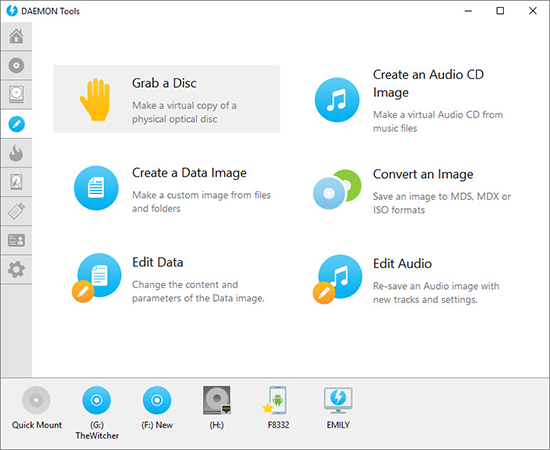 DAEMON Tools Pro 8.3.0.0742 - 64 bit
DAEMON Tools Pro 8 is the best product for optical media emulation. This program lets you create disc images or edit existing ones with easy tool – Image Editor. You can run Image Editor from DAEMON Tools Pro or open a disc image for editing right from Microsoft Windows Explorer. Image Editor provides all modern burning features. It is embedded to DAEMON Tools Pro, so there is no need in other burning software.
DAEMON Tools Pro 8 also allows you to burn files, master bootable discs or save created projects to image files for further mounting.
Extract selected image files without mounting the disc image. Burn your favorite music to Audio CD discs. The most popular MP3, WAV, WMA, APE, FLAC formats are supported.
Full-fledged mounting
Mount all popular types of images from application or Explorer
Grab images from physical discs with advanced parameters
Create both Dynamic and Fixed virtual hard disks
Store sensitive data in TrueCrypt containers
Professional emulation
Emulate up to 32 DT, HD and SCSI drives together with 4 IDE devices
Mount with double-click or customize the emulation process manually
Attach virtual drives to physical ones and set advanced emulation options
Emulate disc burning process with Virtual Burner
Advanced imaging tools
Create new and edit existing Audio CD and Data images
Convert, compress and protect image files with password
Burn data with RMPS, make Audio CDs and copy discs
Store all your favorite image files in handy Images catalog
Classic interface
Work with improved but native system interface
Get access to the functionality from application, tray agent and gadget
Use DAEMON Tools Pro features via Windows Explorer
Customize the main window and Image Editor
Media Info panel
Find more about game images you store and mount
Be in touch with the latest news from gaming industry
Read game reviews and watch related videos
Get access to the growing gaming community right from DAEMON Tools Pro
Supported OS: Windows XP, Vista, Windows 7, 8, 8.1, 10 and Server 2003, 2008, 2012, 2016 (32-bit, 64-bit).