Steganos Privacy Suite 20, ödüllü Steganos Güvenlik yazılımı ürünleri Steganos Safe ve Steganos Password Manager'ı , Privacy Suite'te bulunan ek özelliklerle birleştiriyor. Kullanıcılar PC, ağlar ve bulutta net ve kolay menü gezintisi sayesinde iş raporları, TAN listeleri veya tatil fotoğrafları gibi hassas verilerini şifreliyorlar.
Tüm çevrimiçi hesapların şifreleri otomatik olarak oluşturulabilir ve bir bilgisayar, akıllı telefon veya tablet ile kolayca yönetilir. Tek bir tıklama ile tüm tarayıcı verilerini ve geçmişlerini silebilirsiniz. Ek olarak, artık sizin hakkınızdaki bilgiler saklanmadan önce izleme ve reklam yayınını engelleyebilir ve gizliliğinizi anonim bir tarayıcıyla artırabilirsiniz.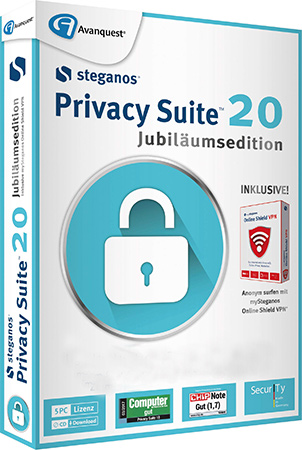 Steganos Privacy Suite 20 combines the award winning Steganos Security software products Steganos Safe and Steganos Password Manager with added features that are only available in the Privacy Suite. Users are able to encrypt sensitive data like business reports, TAN lists or holiday photos thanks to a clear and easy menu navigation - on the PC, in networks and in the cloud.
Passwords for all online accounts can be created automatically and are easily managed and administrated, regardless if it is on a computer, smartphone or tablet. With only one click you are able to delete all browser data and histories. And additionally you can now block tracking and advertising before information on you is stored, and increase your privacy with an anonymized browser.