CDBurnerXP kullanıcılara CD yazma, DVD yazma, Blu-Ray yazma, müzik CD'si oluşturma, iSO oluşturma ve iSO yazdırma konularında yardımcı olan ve tamamen ücretsiz olarak indirip kullanabileceğiniz bir CD yazma programıdır.
CD, DVD veya Blu-Ray yazdırma işlemleri için kullanabileceğiniz en başarılı yazılımlar arasında olan CDBurnerXP ücretsiz olmasına rağmen oldukça zengin özelliklere sahip olan bir program. CDBurnerXP kullanarak standart veri diskleri yaratarak bilgisayarınızdaki dosyaları CD/DVD veya Blu-Ray disklerinize yedekleyebilirsiniz. Bunun yanında program ile önyüklenebilir (bootable) diskler de yazdırabniliyorsunuz. CDBurnerXP bilgisayarınızda depoladığınız MP3, WAV, OGG, FLAC, WMA, APE, MP3, WV ve ALAC formatındaki ses dosyalarınızı kullanarak müzik CD'leri oluşturmanızı da mümkün kılmakta.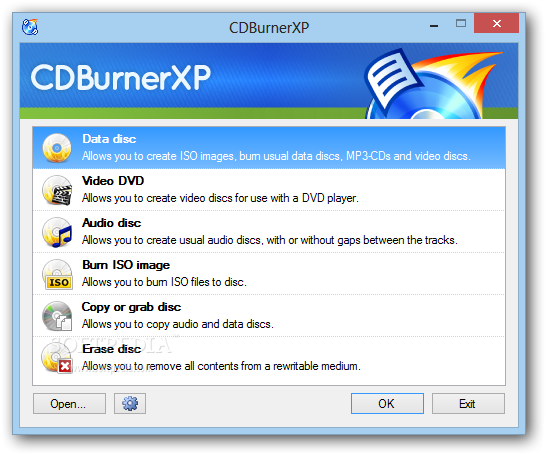 CDBurnerXP 4.5.8 Build 6795 Final
CDBurnerXP - a program for recording CD and DVD, including Blu-Ray and HD-DVD. Writes data from the hard disk and create ISO images, recording a data CD and audio-CD. In addition, you can create bootable discs, copy audioCD on the hard disk "on the fly" in the files MP3, OGG, WMA, WAV, and save images of the CD in the form of ISO-files. CDBurnerXP can work with both conventional as well as with rewritable discs and understands the "multisession."