Everyone Piano 2.3.4.14
Posted by JayJay on 27-05-2019, 01:57 @ Freeware
Everyone Piano ücretsiz masaüstünüzde piyano simülasyon deneyimini yaşayabilmeniz için tasarlanmış, kullanımı kolay bir uygulamadır.Program neredeyse tüm klavye tuşlarını kullanmaktadır ve tuşları istediğiniz gibi özelleştirme olanağını tanımaktadır.Everyone Piano aynı zamanda çaldığınız şarkıları bilgisayarınıza kaydetmenize de olanak vermektedir.Everyone Piano, bilgisayarınızı gerçek bir piyanoya dönüştüren havalı bir araçtır.Everyone Piano ile bilgisayarınızda pratik yapabilir ve beceri seviyenizi geliştirebilir ya da sıfırdan başlayabilirsiniz. Bu simulasyon yazılımı, klavyenizdeki her bir tuşa bir nota atar, hatta her bir ayak pedalı için tuşlar bile mevcuttur.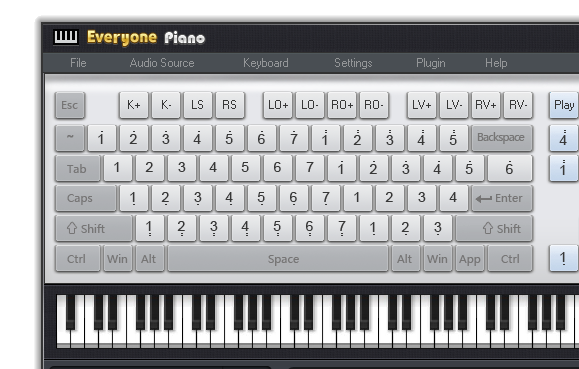 Everyone Piano 2.3.4.14
Everyone Piano can play piano notes from your computer's keyboard to allow everyone to learn or improve their piano skills.The goal of this project was to allow people to learn or improve their piano playing skills by generating tones that are good enough that coupled with a keyboard you get a sense of playing the piano.Everyone Piano can also produce real-time musical performances and can even simulate the pedals of the piano for sustaining notes.