5 Cooking and Diets e-Books
Posted by JayJay on 26-05-2019, 15:27 @ English eBooks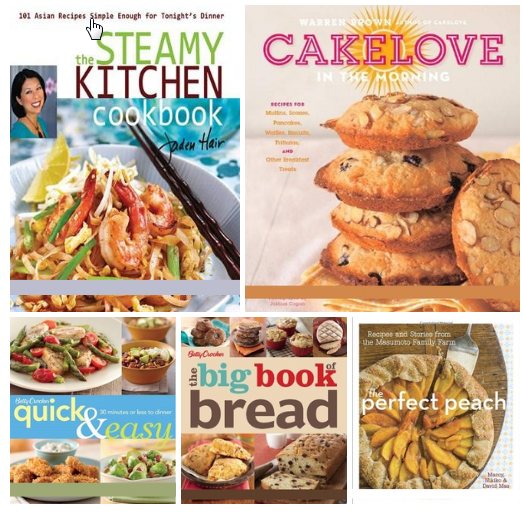 5 Cooking and Diets e-Books
* Steamy Kitchen Cookbook: 101 Asian Recipes Simple Enough for Tonight's Dinner
* CakeLove in the Morning
* Betty Crocker The Big Book of Bread
* Betty Crocker Quick & Easy: 30 Minutes or Less to Dinner
* The Perfect Peach: Recipes and Stories from the Masumoto Family Farm
Steamy Kitchen Cookbook: 101 Asian Recipes Simple Enough for Tonight's Dinner
2012 | PDF | 160 pages | 22.64 Mb
"I loved it and so did my girls! So easy, so quick- soooo good. Thank you, Jaden, for your beautiful cookbook! I love it."--Ree Drummond, author of The Pioneer Woman Cooks
"What am I going to cook for dinner tonight?" It's a common lament for everyone, and the answer too often is something unhealthy, unappealing, or both in the form of expensive take-out. Jaden Hair comes to the rescue in The Steamy Kitchen Cookbook, a fantastic new cookbook stuffed with dozens upon dozens of foolproof Asian recipes that are quick and easy to do--all in time for tonight's supper!
Author and food blogger, Jaden Hair (steamykitchen.com) reveals her secret ingredient to create take-out favorite Broccoli Beef, shows you step-by-step in photos how to roll perfect Vietnamese Spring Rolls, how to make Thai Curry in less time than it takes to drive to a restaurant and teaches how, with only three main ingredients, you can fry up the crowd-favorite Firecracker Shrimp. With her irresistible sense of humor and accessible style, Jaden will have you running into your kitchen to start cooking!
CakeLove in the Morning
2012 | English | 208 pages | EPUB | 19.05 Mb
Warren Brown spreads his CakeLove magic on America--s favorite course--breakfast! In CakeLove in the Morning, Warren covers everything: pancakes and French toast, frittatas and omelets, quick breads and cereals, bacon and biscuits. He adds his own trademark twists on classic recipes so you--ll soon be making Coconut Waffles with Bananas Foster topping, Breakfast Lasagna, or Multigrain Rum Raisin Scones. With recipes as delicious as these, you--ll never reach for a box of pancake mix again. As always, Warren leaves —no cabinet unopened— and covers all the spreads, sauces, and salads that go along with your favorite breakfast and brunch dishes.
Betty Crocker The Big Book of Bread
2013 | English | 336 pages | EPUB | 13.55 Mb
Nothing is more basic or more versatile than bread. From a white loaf to quick-to-make muffins, bread is a well-loved staple. The Big Book of Bread is a complete resource for both new and experienced cooks, with more than 200 recipes and 100 color photos. New bakers will find clear and easy-to-follow instructions, tips, techniques, and how-to photos to bake a range of breads, from classic yeast breads to friendly quick breads. More experienced bakers will enjoy new flavors and techniques to add to their repertoire.
This one-stop bread book will delight and encourage bakers of all levels of experience, with recipes for artisanal breads, no-knead breads, coffee cakes, scones, gluten-free recipes, bread machine recipes, pizza dough, and more.
Betty Crocker Quick & Easy: 30 Minutes or Less to Dinner
2012 | English | 336 pages | PDF | 177.03 MB
The perfect cookbook for fast and tasty family meals
When things are hectic and everybody's hungry, here's the book to turn to for satisfying meals done fast. Each of the 150 recipes is ready in 30 minutes or even less time. You can delight the kids with favorites like Mexican Pasta Skillet and Chicken and Smoked Provolone Pizza. Impress guests with Beef Tenderloin Bruschetta or Orange and Dill Pan-Seared Tuna. And satisfy everyone with crowd-pleasers like Cajun Smothered Pork Chops and Orange Teriyaki Beef with Noodles.
Features 150 recipes for fast, family-pleasing meals, each accompanied by a luscious full-color photo
Includes special extras like mini-recipe ideas for fast veggie sides, great burger toppings, quick chicken meals, and more
Tips with every recipe offer easy ways to complete the meal, make-ahead advice, and other helpful tidbits
When you've got no time to spare and mouths to feed, Betty Crocker Quick and Easy is the only cookbook you need.
The Perfect Peach: Recipes and Stories from the Masumoto Family Farm
2013 | EPUB | 176 pages | 16.93 Mb
A cookbook showcasing the luscious flavor of peaches in 50 sweet and savory dishes, drawing on the life stories and experiences of America's foremost peach farming family, the Masumotos of California's central valley.
Enjoy the luscious versatility of summer--s finest fruit with fifty sweet and savory dishes.
The Masumoto family--s amazing heirloom peaches--which are available for a few weeks each year at the best produce markets and top restaurants in the country--are widely considered the best peaches in the world. Their debut cookbook gathers the family--s favorite recipes, from classics like Hearty Peach Cobbler, Peach Chutney, and Slow-Cooked Pork Tacos to inspired combinations such as Prosciutto-Wrapped Peaches, Caprese with Peaches, Spice-Rubbed Pork Chops and Grilled Peaches, and Stuffed French Toast. And the pristine flavor of a just-picked summer peach can be enjoyed year-round with the easy-to-follow instructions for drying, canning, freezing, or jamming the best of the harvest.
With rich recipe and location photographs fresh from the orchard, this beautiful cookbook paints an intricate portrait of an organic farm that has been in the family for four generations. Accompanied by eloquent essays that evoke the soul of family farming and the nuances of a life filled with peaches, The Perfect Peach is for anyone who longs to savor the flavor of a pristinely ripe peach.