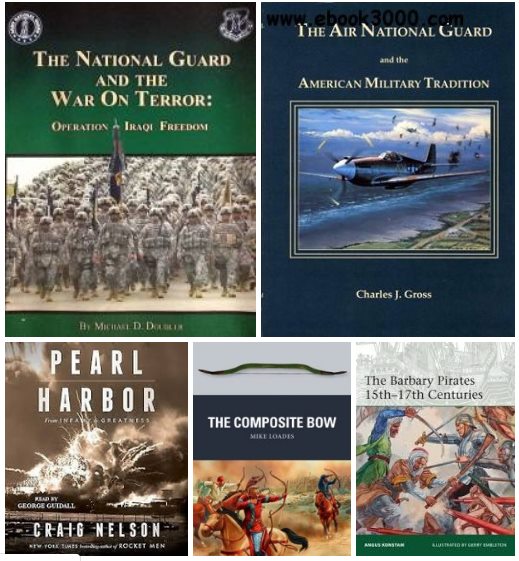 5 History / Military eBooks
The National Guard and the War on Terror: Operation Iraqi Freedom
The Air National Guard and the American Military Tradition
Pearl Harbor: From Infamy to Greatness
The Composite Bow (Osprey Weapon 043)
The Barbary Pirates 15th-17th Centuries (Osprey Elite 213)
The National Guard and the War on Terror: Operation Iraqi Freedom
National Guard Bureau | 2008 | ISBN: N/A | English | 120 Pages | PDF | 11 MB
The Air National Guard and the American Military Tradition
National Guard Bureau | 1995 | ISBN: 0160483026 | English | 260 Pages | PDF | 27 MB
Recounts the Air National Guard's service and heritage as part of the nation's military forces. Traces the militia tradition and connects this story with the rising influence of air power. Outlines the Air National Guard's three primary missions: to reinforce active duty forces in wartime; to assist State governments responding to natural disasters and public emergencies; and to provide various community service functions.
Pearl Harbor: From Infamy to Greatness
English | ISBN: 1451660499 | 2016 | EPUB | 544 Pages | 41 MB
Published in time for the 75th anniversary, a gripping and definitive account of the event that changed twentieth-century America-Pearl Harbor-based on years of research and new information uncovered by a New York Times bestselling author.
The America we live in today was born, not on July 4, 1776, but on December 7, 1941, when an armada of 354 Japanese warplanes supported by aircraft carriers, destroyers, and midget submarines suddenly and savagely attacked the United States, killing 2,403 men-and forced America's entry into World War II. Pearl Harbor: From Infamy to Greatness follows, moment by moment, the sailors, soldiers, pilots, diplomats, admirals, generals, emperor, and president as they engineer, fight, and react to this stunningly dramatic moment in world history.
Beginning in 1914, bestselling author Craig Nelson maps the road to war, beginning with Franklin D. Roosevelt, then the Assistant Secretary of the Navy (and not yet afflicted with polio), attending the laying of the keel of the USS Arizona at the Brooklyn Navy Yard. Writing with vivid intimacy, Nelson traces Japan's leaders as they lurch into ultranationalist fascism, which culminates in their insanely daring yet militarily brilliant scheme to terrify America with one of the boldest attacks ever waged. Within seconds, the country would never be the same.
In addition to learning the little understood history of how and why Japan attacked Hawaii, we hear an abandoned record player endlessly repeating "Sunrise Serenade" as bombs shatter the decks of the California; we feel cold terror as lanky young American sailors must anxiously choose between staying aboard their sinking ships or diving overboard into harbor waters aflame with burning ship fuel; we watch as Navy wives tearfully hide with their children in caves from a rumored invasion, and we understand the frustration and triumph of a lone American teenager as he shoots down a Japanese bomber, even as the attack destroys hundreds of US airplanes and dozens of ships.
Backed by a research team's five years of work, which produced nearly a million pages of documents, as well as Nelson's thorough re-examination of the original evidence assembled by federal investigators, this page-turning and definitive work provides a thrilling blow-by-blow account from both the Japanese and American perspectives, and is historical drama on the grandest scale. Nelson delivers all the terror, chaos, violence, tragedy, and heroism of the attack in stunning detail, and offers surprising conclusions about the tragedy's unforeseen and resonant consequences that linger even today.
The Composite Bow (Osprey Weapon 043)
Osprey Publishing | 2016 | ISBN: 1472805917 | English | 84 Pages | PDF (e-book) | 49 MB
An ancient design, emerging from Central Asia in the second millennium B.C., the composite bow was adopted by a staggering variety of cultures, from nomadic tribal peoples such as the Huns, Turks, and Mongols, to mighty empires such as the Romans, Byzantines, Persians, Arabs, and Chinese. Offering high power and portability, the composite bow was an ideal cavalry weapon, though it was also used by infantry in open battle, and as a siege weapon. In this important study, an expert on Eastern military technology tells the story of this extraordinary piece of military hardware: how it was made and how various cultures developed differing tactics for using it. He explains why the composite bow achieved such stunning successes, and how it endured as a weapon of choice for thousands of years.
The Barbary Pirates 15th-17th Centuries (Osprey Elite 213)
Osprey Publishing | 2016 | ISBN: 1472815432 | English | 68 Pages | PDF (e-book) | 70 MB
For the best part of three centuries the "corsairs," or pirates, from the "Barbary" coasts of North Africa dominated the western and central Mediterranean, making forays far into the Atlantic and preying on the shipping and coastal settlements across Christian Europe, ranging from Greece to West Africa to the British Isles. In the absence of organized European navies, they seldom faced serious opposition, and the scope of their raiding was remarkable. As well as piracy and slave-raiding, they fought as privateers, sharing their spoils with the rulers of the port cities that provided them with ships, men, and a ready market. This book examines their development and style of fighting, chronicles their achievements and failures, and illustrates their appearance and that of their ships, explaining why they were so feared and so effective.