5 Hobbies & Leisure time eBooks
Posted by wblue on 28-10-2017, 14:07 @ English eBooks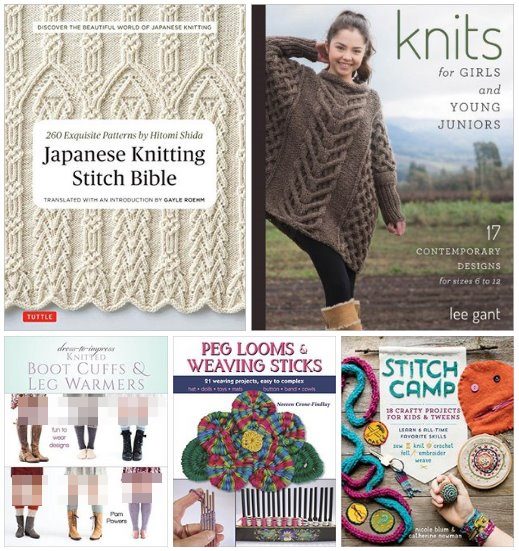 5 Hobbies & Leisure time eBooks
Japanese Knitting Stitch Bible: 260 Exquisite Patterns by Hitomi Shida by Hitomi Shida, translated
Knits for Girls and Young Juniors: 17 Contemporary Designs for Sizes 6 to 12
Dress-to-Impress Knitted Boot Cuffs & Leg Warmers: 25 Fun to Wear Designs
Peg Looms and Weaving Sticks: Complete How-to Guide and 25+ Projects
Stitch Camp: 18 Crafty Projects for Kids & Tweens – Learn 6 All-Time Favorite Skills: Sew, Knit, Crochet, Felt, Embroider & Weave
* Japanese Knitting Stitch Bible: 260 Exquisite Patterns by Hitomi Shida by Hitomi Shida, translated by Gayle Roehm
English | October 10, 2017 | ISBN: 4805314532 | EPUB | 160 pages | 108 MB
In the Japanese Knitting Stitch Bible knitting guru Hitomi Shida shares some of her favorite needlework patterns.
Shida's strikingly original designs and variations on every imaginable classic stitch result in intricate patterns that form the basis for beautiful and unique knitted fashions. This is the perfect book for the experienced knitter who is looking for new stitches that yield spectacular results! This Japanese knitting book features a wide range of rewarding and intricate stitches including:
cables
popcorn stitches
twisted stitches
edgings
and many more…
A set of detailed, step-by-step diagrams show you how to execute all the basic stitches. Instructions and diagrams for a series of small projects offer practice working with large patterns, lacy patterns, pattern arrangement and round yokes among other things. The knitting projects include:
A classic hat made using large patterns
An elegant scarf in lacy patterns
The ever-popular fingerless mittens
Thick socks that can be made using various patterns
A feminine collar using round stitching
And much more!
This Japanese stitch dictionary represents a whole new adventure for knitters and is sure to become a valued reference for experienced knitters.
*Knits for Girls and Young Juniors: 17 Contemporary Designs for Sizes 6 to 12 by Lee Gant
English | September 1, 2017 | ISBN: 0811715639 | EPUB | 128 pages | 28.2 MB
Knitting is finding a new generation of enthusiasts. More and more kids of all ages are interested in knitting and creating their own special clothing and accessories.
Finally! A collection of knits for girls and teenagers that suits their relaxed, comfortable, style! From high-textured cabled ponchos and sweaters to stockinette tops and dresses to warm, comfy coats, these pieces all share a carefree style your girls will love.
Sized from 6 to young juniors 12, the patterns reach an often-missed generation of girls between toddler and adult. Yes, this age group can be tricky to please, so get them involved! Let them choose the pattern, the yarn, the fit (body-skimming or looser), and especially the color(s). Encourage them to personalize their design with the choices they make. Once exposed to the joy of creating a unique piece of hand-made clothing, they may even want to learn to knit for themselves!
*Dress-to-Impress Knitted Boot Cuffs & Leg Warmers: 25 Fun to Wear Designs by Pam Powers
English | September 1, 2017 | ISBN: 0811717992 | EPUB | 128 pages | 23.1 MB
Boot cuffs are just the thing to add a little spice to your style! Peeking just over your boot tops, they can be lacy, sporty, thick and warm, or delicate and feminine. Best of all, they are easy-to-knit tubes with minor shaping–no tricky foot as with a sock–so they knit up fast. They are great for trying out techniques like colorwork or lace on a small scale. And, of course, they are super-cute to wear and sure to draw comments wherever you go.
Pam Powers, author of Dress-to-Impress Knitted Scarves, brings her impeccable sense of style to this collection of 25 boot cuffs and leg warmers. You will want to make a pair (or two) for every day of the week.
*Peg Looms and Weaving Sticks: Complete How-to Guide and 25+ Projects by Noreen Crone-Findlay
English | September 1, 2017 | ISBN: 0811716120 | EPUB | 184 pages | 71.6 MB
Easy to learn, portable, and lots of fun–that's weaving on peg looms and weaving sticks! This book introduces you to the craft and answers all of your questions.
20+ projects, including dolls and toys, flowers and brooches, cowls, baskets and bowls
Gallery of woven pieces will inspire your own weaving creativity
Includes finishing techniques for these handheld weaving tools
*Stitch Camp: 18 Crafty Projects for Kids & Tweens – Learn 6 All-Time Favorite Skills: Sew, Knit, Crochet, Felt, Embroider & Weave by Nicole Blum, Catherine Newman
English | October 17, 2017 | ISBN: 1612127509 | EPUB | 208 pages | 41.3 MB
In today's thriving maker culture, kids are hungry for hands-on guidance in creating stylish wearables and practical objects, or hacking and customizing existing ones. Authors Nicole Blum and Catherine Newman get them started with complete instructions for mastering six favorite fiber crafts.
Step-by-step photos teach kids ages 9–14 the basics of how to sew, knit, crochet, felt, embroider, and weave, plus how to make three projects for each craft. From woven patches and a knitted backpack to embroidered merit badges and a crocheted bracelet, the fresh, kid-approved projects encourage creative variations and build confidence along with valuable life skills.